REGISTER NOW FOR THE MONTANA SURF SPRING COMPETITIVE PROGRAM
Click on the image below to register for Montana Surf Spring Competitive (Birth Years 2004-2010). Players must be registered in order to attend tryouts.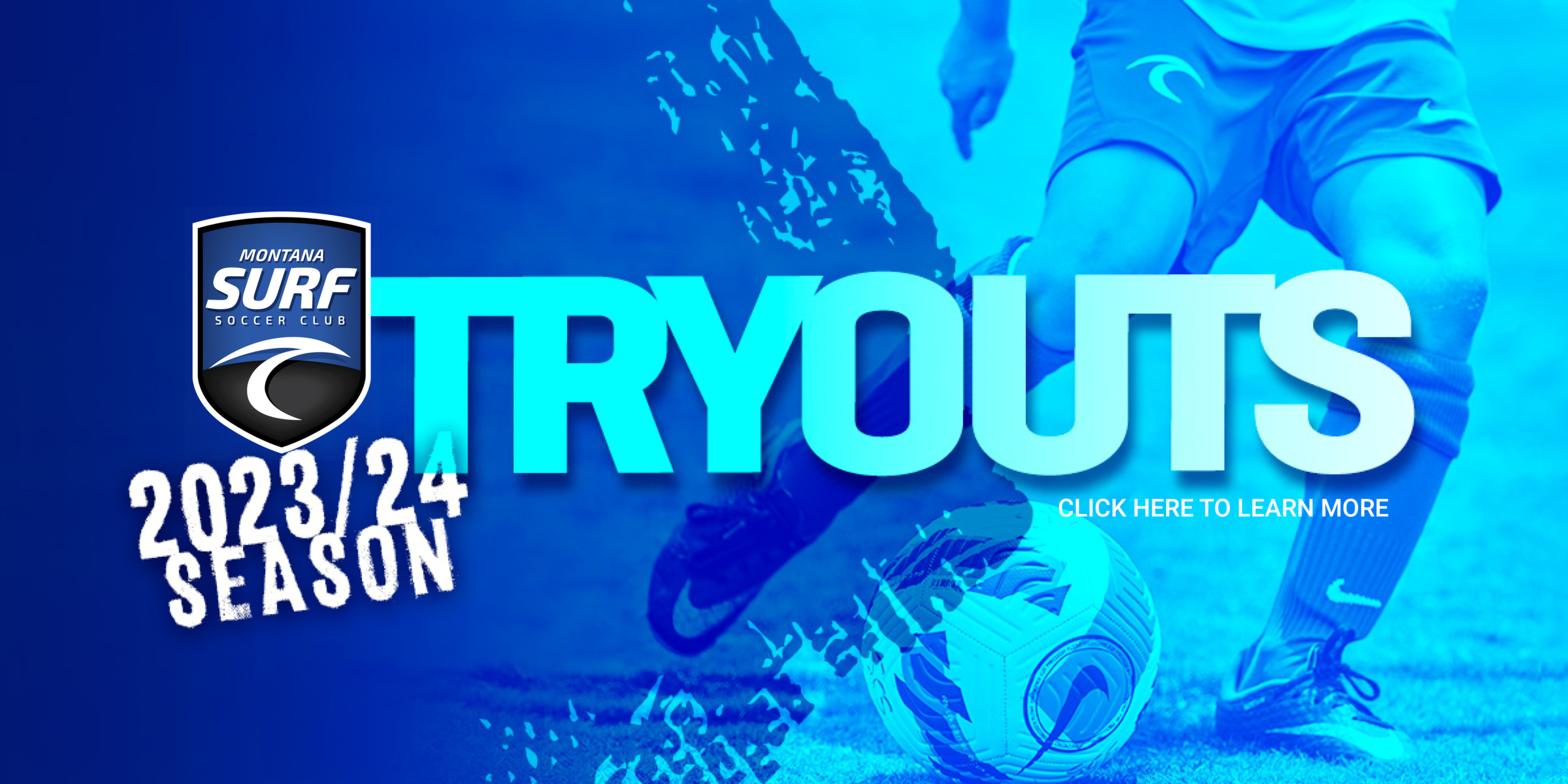 JOIN MONTANA SURF: 3x STATE CHAMPS 2022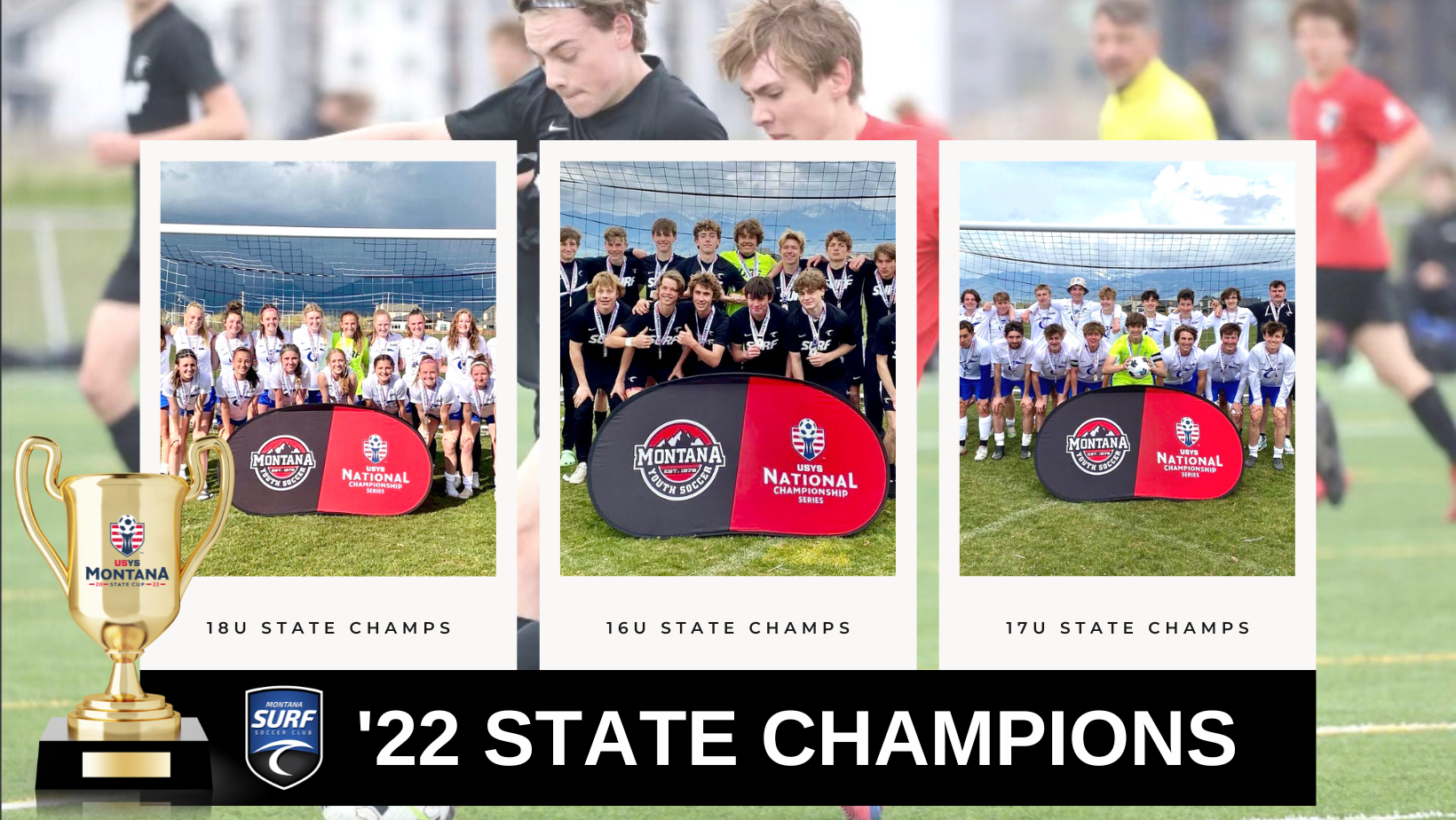 Montana Surf's Competitive teams earned the best overall result in the state of Montana last spring with 3 State Champion Teams moving on to USYS Regional Championships and three 2nd place teams who advanced to the USYS Presidents Cup. Since then we have continued to see tremendous growth in our athletes as they have challenged themselves through Montana Surf fall play as well as with their high school teams. Fourteen of our athletes also had the opportunity to push their play to a higher level as members of Surf Select National Teams. These players faced off against top-level teams nationally and internationally, hitting the pitch in places like San Diego, California, and Valencia, Spain.
It's an exciting time to be a part of Montana Surf and we are looking forward to seeing all of our athletes together again at spring season tryouts in early November. Please register for spring season here:
SPRING 2023 TRYOUTS
Tryouts for spring 2023 competitive teams will happen November 1-November 17th. During this time our Montana Surf coaching staff will evaluate players using the Four Coactive Model of Player Preparation, looking at each athlete's:
Tactical Preparation

Technical Preparation

Psychological Preparation

Physical Preparation
Prior to Tryouts please fill out player profile: https://form.jotform.com/222916092645055
You can read more about this model here: https://simplifaster.com/articles/four-coactive-model-player-preparation/.
Once evaluations are complete, players will be placed on teams for the Spring 2023 season. At Montana Surf we believe that your spot on the team is earned, not given, and that players should approach each practice and game with that in mind. Rosters are fluid and there is always potential for movement up or down based on player development over the course of the season.
Tryout schedules: 7:00-8:30 We are hoping to move it earlier. More details to come after players register.
Location: Bozeman High School Football Turf
November 7th, 8th 9th,10th

2008 Boys & Girls

2009 Boys & Girls

2010 Boys & Girls

November 14th, 15th, 16th,17th

2007-2004 Boys

2007-2005 Girls
WINTER TRAINING
Creating strong, competitive teams for the spring hinges on our ability to improve our fitness and skill over the winter months. We are excited to offer a variety of quality opportunities for player development this winter:
– Strength & Agility Training (2004-2010)
– Technical Training (2004-2010)
– Once a week team practice (Depending on player/team availability)
– Pick Up Sundays (2010 boys and girls)
-Futsal:https://docs.google.com/document/d/1h0OYf17AHXHpPxMT5b1Y1wxqulahQzzpNVicEgtObHk/edit?usp=sharing
Montana Surf is fortunate to have one of the only indoor soccer facilities in the state. The only other towns with access to indoor turf are Missoula and Kalispell. Billings, Helena and Great Falls all have to rely on hard surfaces in gyms. We plan to use our space to its full potential this winter!
OPTIONAL WEEKLY TEAM TRAINING
This winter our Montana Surf teams will have the opportunity to train weekly with their team. These trainings are optional but designed to help teams grow, improve and sync in time for the spring season. The more touches the better! Many of our athletes will attend tournaments during the off season and we want to make sure that we set our teams up for that option.
TECHNICAL TRAINING
WHEN: 4:15-5:25
Monday: High School Boys
Tuesday: High School Girls
Wednesday: 2009 girls/boys
Thursday: 2008 Girls/Boys
Friday: 2010 Boys/Girls
WHERE: Montana Surf Indoor Soccer Facility, Belgrade
Starts: December 5th-March 3rd
Registration link will be sent out shortly. We will run two 5 week sessions, one training per week. Each session block will be $100.00 per athlete.
WHAT: Winter provides Montana Surf athletes the unique opportunity to focus closely on technical development. Montana Surf/Blitzz FC alum Alec Marshall is currently playing professional soccer for the Park City Red Wolves and he shared with us that futsal and winter technical training offered him a huge advantage when he entered a D1 college program. His technical skills were among the best on the team thanks to his time playing indoors during our cold Montana winters.
Winter technical training is for advanced athletes and will allow players a maximum number of touches in a small amount of time and space. There is limited space in these programs and athletes will be split into two groups with athletes of similar ability. We encourage athletes to arrive as early as possible as training will begin right at 4:15.
SALVAT PERFORMANCE TRAINING
Zac Salvat is Gallatin High's strength and performance coach and also a football coach for the school. He has created a training plan specific to soccer athletes and we are looking forward to working with him to improve overall athlete fitness and performance this winter.
Once Zac has sent us the final details we will share the schedule with all of you. Trainings will be on Saturdays.
MOUNTAIN WEST NATIONAL PREMIER LEAGUE (NPL)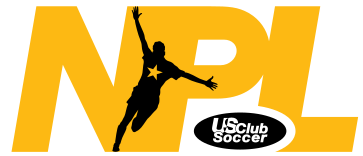 Montana Surf is committed to offering the very best player opportunities and pathways in Montana. No one else does what we do and athletes drive from as far as Helena, Big Sky, Billings, Missoula and Livingston to access our opportunities. Our current opportunities include:
SURF NATION: Surf Select regional, national and international platforms, International Development Academy, Surf Nation Champions League, guest playing opportunities with other Surf clubs across the US.
US YOUTH SOCCER: Montana Surf is part of Montana Youth Soccer Association (MYSA) and US Youth Soccer (USYS). This affiliation allows our players to participate in the Montana Olympic Development Program (ODP), MYSA league play during the spring season, Montana State Championships, Far West Regional Championships and Presidents Cup. In 2023, 3 Montana Surf teams earned "State Champion" titles and 3 more teams were runners up.
We are excited to announce that we are working alongside our colleagues in the region to create another "best of the best" opportunity for Montana Surf athletes. We are working to establish the US Club Soccer Mountain West National Premier League (NPL). We are currently in the process of being sanctioned and confirmed by US Club Soccer, a process which takes some time so thank you for your patience as we work toward this goal. The NPL is the nation's leading league for high level play and player identification. It gives our Montana Surf players yet another player pathway to gain spots on collegiate and national teams. Read more about the NPL and their id2 Olympic Development program here:
Please be patient as we continue to work with our colleagues across the West to finish founding this league. It is a tremendous amount of work but will be worth it for the incredible opportunities it will present to our athletes.

Why don't we do YPL anymore?
For the past few years Montana Surf has been a part of the Yellowstone Premier League (YPL). We very much enjoyed the opportunities it brought our athletes, however, YPL lost their US Club sanctioning and changed to US Youth Soccer (USYS) sanctioning. Our players already have access to the USYS soccer pathway and opportunities through our spring league play with Montana Youth Soccer (MYSA), which is part of US Youth Soccer. This makes the YPL redundant for our athletes and athletes from 6 other states. We have been working together for the last six months to create a new league, The Mountain West National Premier League (Mountain West NPL). We are currently waiting for US Club Soccer to approve sanctioning for this new league.
We would like to start off a smaller event based league this upcoming new year and in 2023/2024 move into a 3 event based league. The US Club route offers us the opportunity to make it to the NPL National Cup Championship. US Club also offers additional player identification programs for our athletes.
SURF NATION CHAMPIONS LEAGUE 2023:
FOR 2009 PLAYERS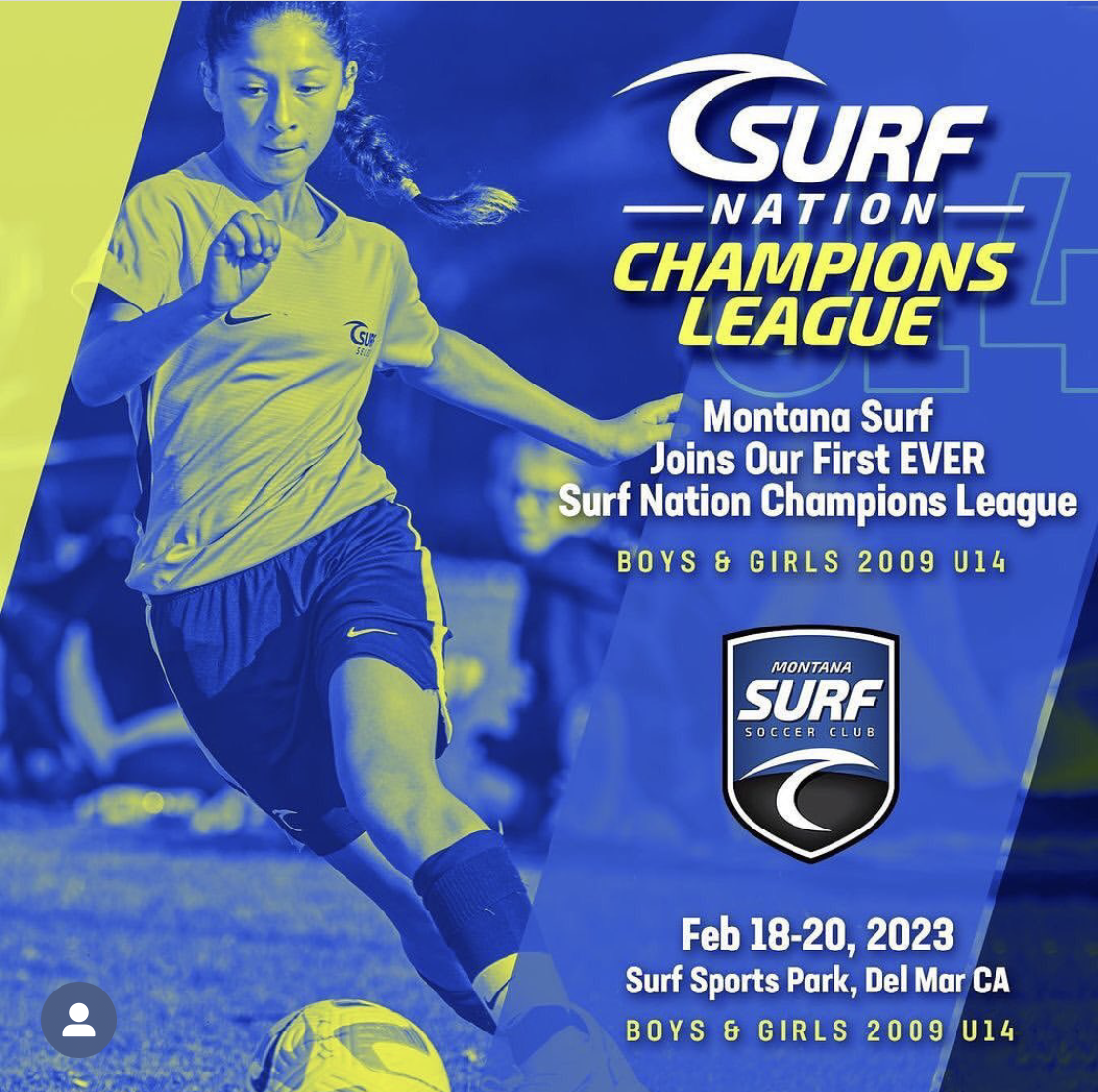 Montana Surf's 2009 boys and girls teams will join the first ever Surf Nation Champions League event February 19-20, 2023, at Surf Sports Park in Del Mar, California. This Surf Nation-only event will bring together U14 Surf teams from across the nation and will be used as the identification process to represent Surf Select at this age group in 2023.
TAKE OUR VEO CLASS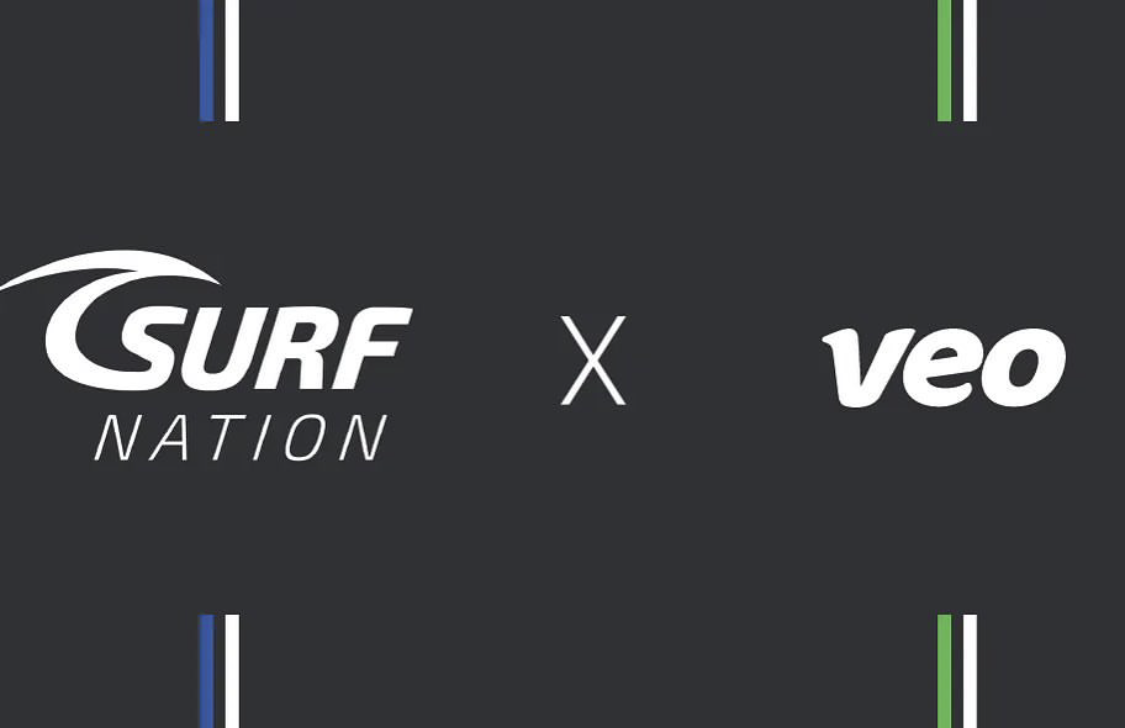 Surf Nation is thrilled to announce a new partnership with VEO cameras. VEO is the ultimate camera for team sports, allowing us to record and live-stream matches automatically. VEO has been a useful tool for teams and coaches to help analyze play and make plans for individual and team improvement. It also offers players the ability to create player profiles and highlight reels to use for college recruiting. Learn more here: veo.co.
VEO is a huge asset for our players and we need volunteers to learn how to set up cameras for games. We'll be hosting a VEO class the first week of outdoor spring practices.
We have accomplished so much with the two VEO cameras we own – just think of what we could do if we had two more! Would you be willing to donate one? If so, please send an email to competitivedirector@montanasurf.org.