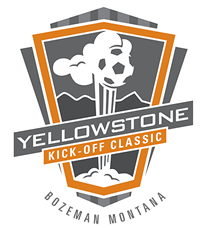 Dates: September 3-4, 2022
Location: Bozeman
Join us for the 8th Annual TOYOTA Yellowstone Kick-Off Classic soccer tournament! Every year we welcome 1500 players from 85 teams and 5 states to beautiful Bozeman, the heart of Yellowstone country. The tournament will take place September 3rd and 4th with possible local club games on September 2nd, 2022. Games will take place at The Bozeman Sports Park on East Baxter Lane and the Adam Bronken Soccer Complex on Durston Road.
This tournament is open to teams U9 through U14. Awards will be given to first and second-place teams in each bracket. Every team is guaranteed a minimum of 3 games. We look forward to seeing you and your team!
Please browse the information on this website and if you have any further questions, please contact us. We look forward to seeing you and your team!
Katja Andrew
Yellowstone Kick Off Classic Director
[email protected]

The Yellowstone Kickoff Classic is brought to you by our title sponsor, Toyota USA.