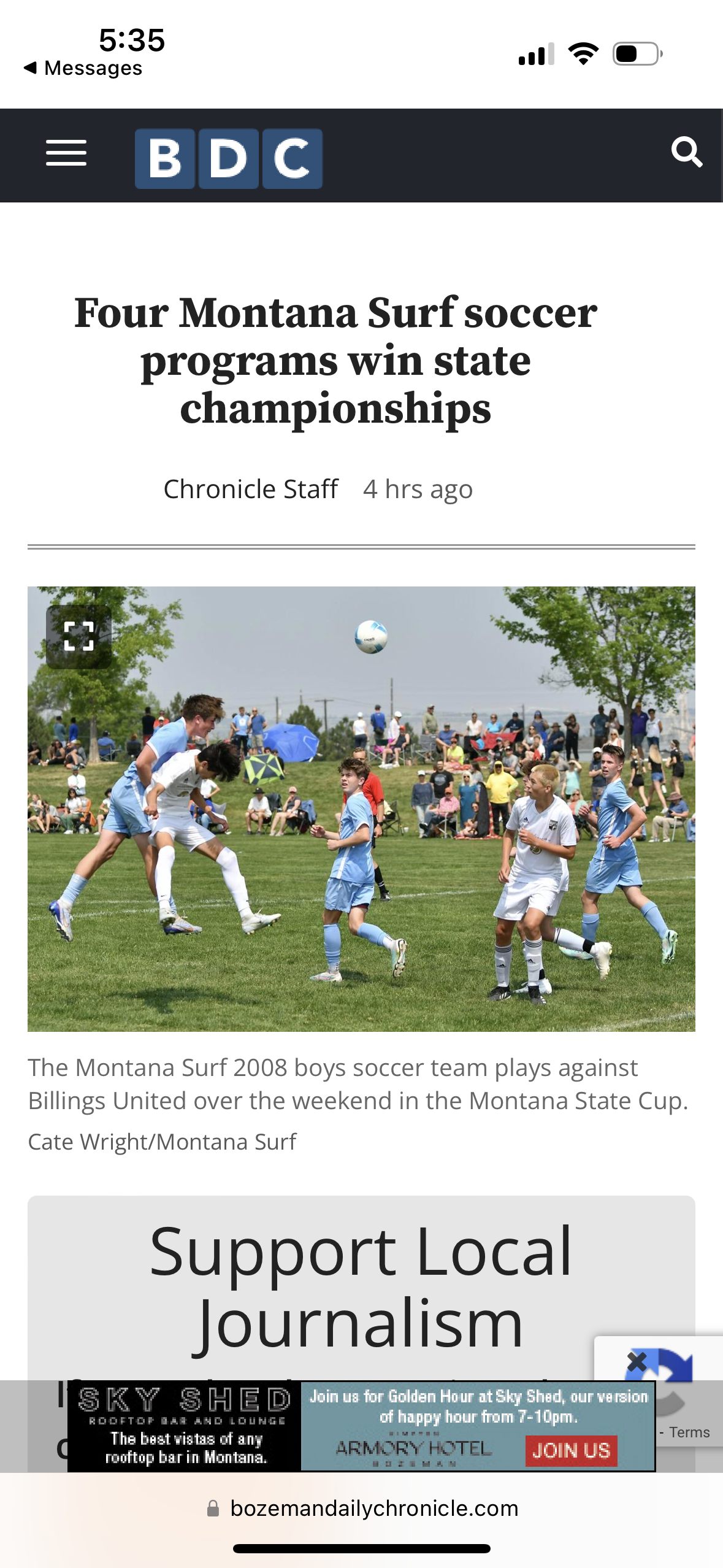 Montana Surf teams were featured in the Bozeman Chronicle after winning 4 State Champion Titles
Click here to read the article
Four Bozeman-based teams won state titles this past weekend at the Montana Youth Soccer Association's Montana State Cup. Forty-four total teams participated in 13U-19U leagues, with winners qualifying for the US Youth Soccer Far West Regional Championships, which will be played June 23-29 in Boise, Idaho.
From Bozeman's Montana Surf programs, the 2006 girls, 2005 boys, 2006 boys and 2008 boys all won state championships.
The 2006 girls notched a 2-1 win over Billings United and followed with a 5-0 win over Real Billings FC. The 2005 boys won against the Missoula Strikers 7-0 and against Billings United 6-2. The 2006 boys won 2-0 over the Missoula Strikers. And the 2008 boys won 4-3 against Billings United and 2-0 over Missoula.
The Montana Surf 2010 boys and the Gallatin Elite Soccer Club 2009 boys both earned second-place finishes.
Suscríbete a nuestro boletín de noticias gratuito.
Four Bozeman-based teams won state titles this past weekend at the Montana Youth Soccer Association's Montana State Cup. Forty-four total teams participated in 13U-19U leagues, with winners qualifying for the US Youth Soccer Far West Regional Championships, which will be played June 23-29 in Boise, Idaho. From Bozeman's Montana Surf programs, the 2006 girls, 2005 […]

Montana Surf Brings the Fun and Excitement of Qatar and Australia to the Gallatin Valley with First Ever World Cup Camp! The Men's World Cup brought soccer into the limelight in 2022 and the sport is poised to gain even more popularity as we ramp up for the Women's World Cup this July. Soccer […]

Deportes juveniles: ¿Cuándo es el momento adecuado para entrar en el juego? Los deportes juveniles tienen un gran impacto tanto en los niños como en las comunidades en las que viven. Según el "Proyecto Juego" del Instituto Aspen, los niños físicamente activos tienen 1/10 de probabilidades de ser obesos, sus puntajes en las pruebas son hasta 40% más altos que […]

El trabajo en equipo: cómo un grupo de padres voluntarios decididos transformó un almacén en un oasis de fútbol Por Cate Wright y Jared Portnell Me levanté temprano el sábado 1 de enero de 2022 y hacía frío. Negativo 21 frío. Subí el cuello de mi abrigo, me tapé las orejas con el sombrero y me deslicé […]