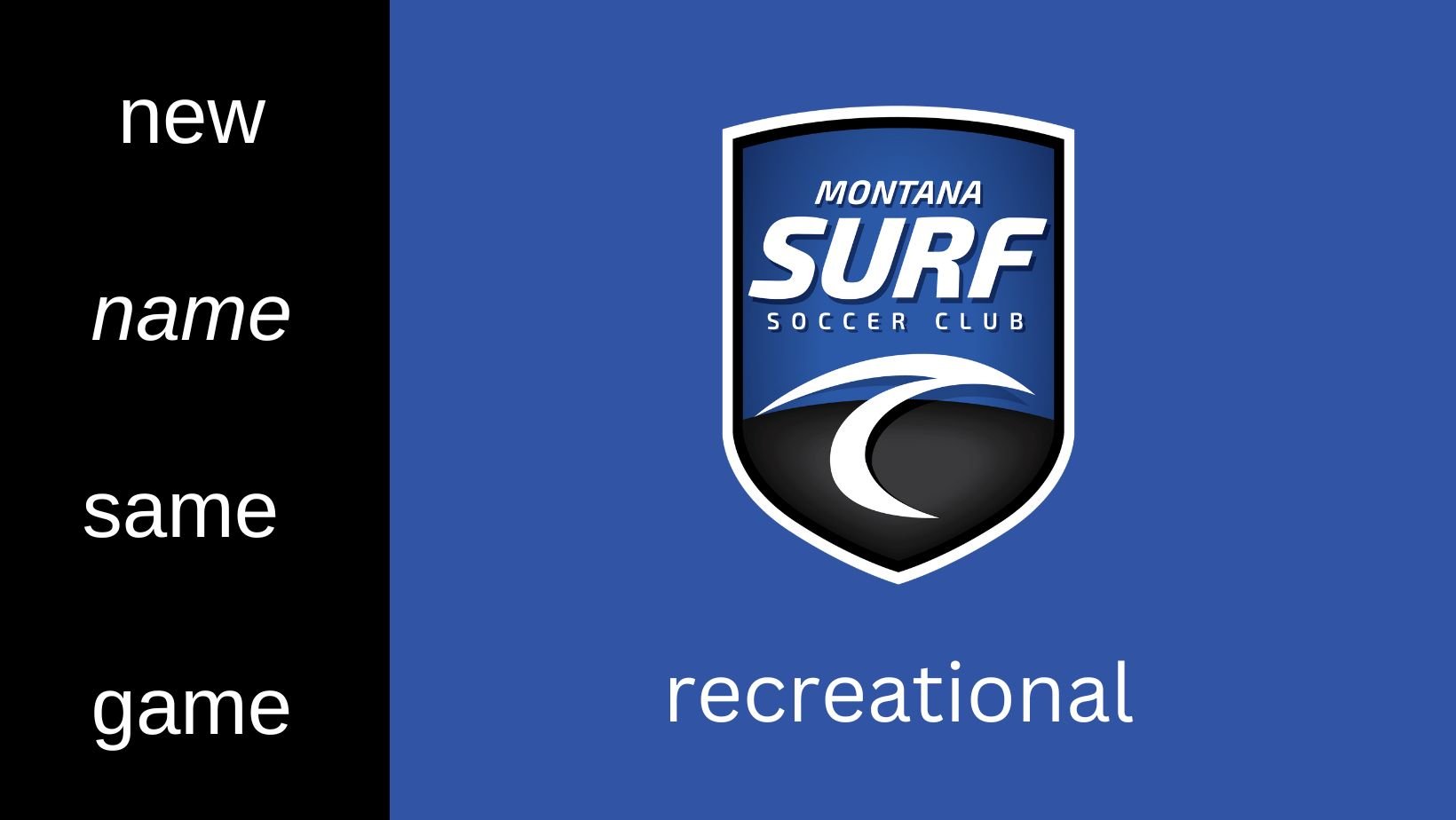 Montana Surf Soccer Club is pleased to announce that our Blitzz FC recreational soccer program is now Montana Surf Recreational Soccer.
For 38 years, Blitzz FC has been the Gallatin Valley's local soccer club, providing high quality programming for thousands of youth athletes of all levels. In 2020, Blitzz FC's competitive teams joined Surf Soccer Nation, bringing "best of the best" programming and unmatched local, national and international soccer opportunities to the Gallatin Valley. The club will now bring the recreational program under the Surf name, allowing us to unite all of our programs, create consistent messaging across all levels, and present Montana Surf more clearly as what it is: the leader in Montana soccer.

"We are excited to bring our recreational soccer program under the Surf name," said Montana Surf Technical Director, Joel Harris. "In order to serve our players and families better, we have decided to unite all of our programs under the same name, allowing us to better articulate the depth and value of our programming. Montana Surf is the largest youth sports organization in the Gallatin Valley and the only soccer program that offers a pathway to every level of soccer for young athletes," Harris continued.

Our commitment to our athletes and families remains our highest priority and we will update you as these branding changes take place. We will continue to provide the same, high-quality recreational soccer program, with the benefit of simplified messaging under one clearly articulated brand. Montana Surf is a 501(c)3 non-profit corporation. 
Subscribe to our free newsletter.
Montana Surf teams were featured in the Bozeman Chronicle after winning 4 State Champion Titles Click here to read the article Four Bozeman-based teams won state titles this past weekend at the Montana Youth Soccer Association's Montana State Cup. Forty-four total teams participated in 13U-19U leagues, with winners qualifying for the US Youth Soccer Far […]

Four Bozeman-based teams won state titles this past weekend at the Montana Youth Soccer Association's Montana State Cup. Forty-four total teams participated in 13U-19U leagues, with winners qualifying for the US Youth Soccer Far West Regional Championships, which will be played June 23-29 in Boise, Idaho. From Bozeman's Montana Surf programs, the 2006 girls, 2005 […]

Montana Surf Brings the Fun and Excitement of Qatar and Australia to the Gallatin Valley with First Ever World Cup Camp! The Men's World Cup brought soccer into the limelight in 2022 and the sport is poised to gain even more popularity as we ramp up for the Women's World Cup this July. Soccer […]

Youth Sports: When is the right time to get in the game?  Youth sports have a big impact on both children and the communities in which they live. According to Aspen Institute's "Project Play," physically active children are 1/10 as likely to be obese, their test scores are up to 40% higher than […]