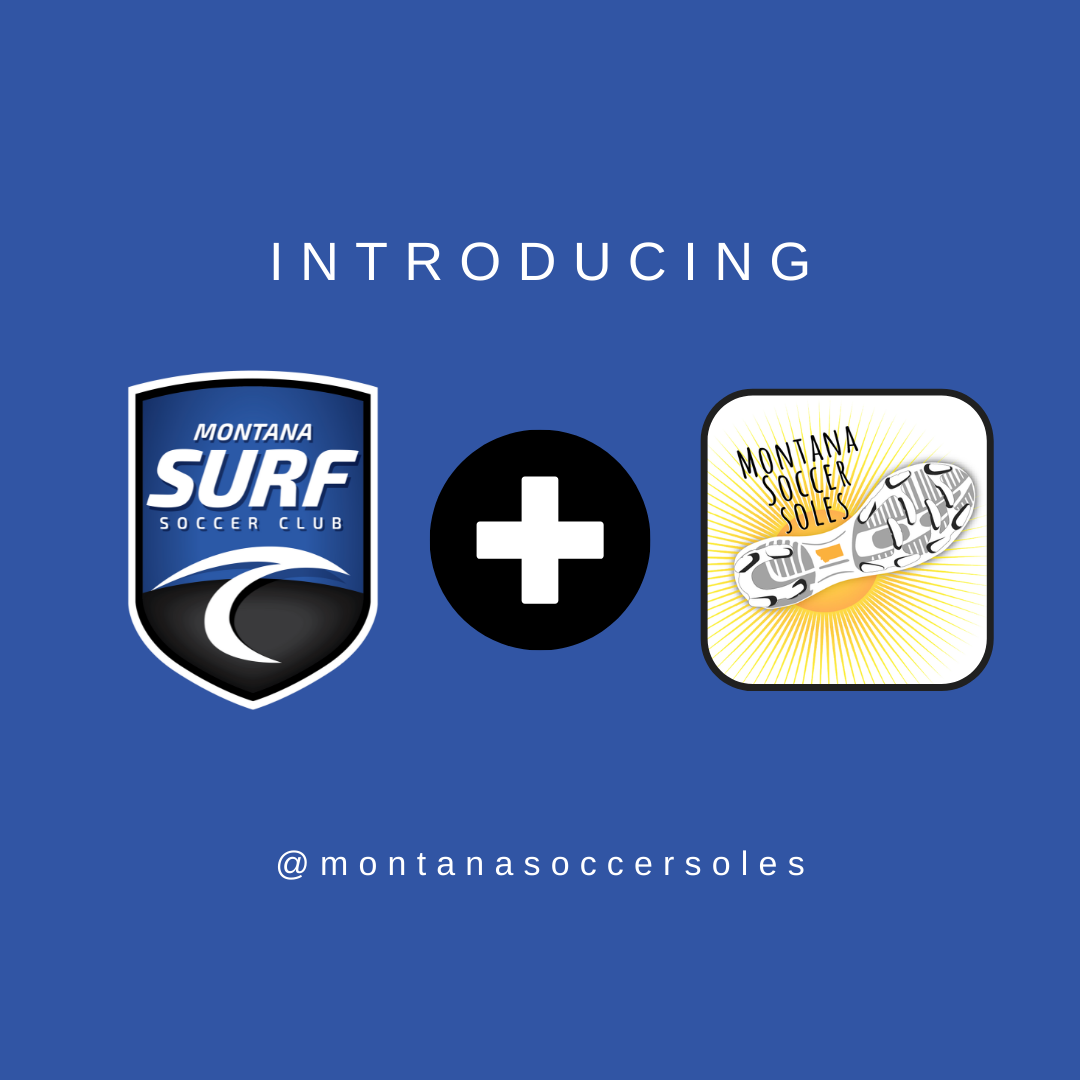 MONTANA SOCCER SOLES EXPANDS TO BOZEMAN, TEAMS WITH MT SURF
Organization Run by Kids for Kids Gives Soccer Gear to Children in Need 
(Bozeman, MT, January 11, 2022) –  Montana Soccer Soles, a charitable organization started by Helena's Isabelle Melton, has partnered with 10-year-old Montana Surf soccer players, Isabel Terrazas and Jack Wright, to expand operations to the Gallatin Valley. Melton, who started Soccer Soles as an 8th grader and who is now a college student at the University of Montana, was inspired to deliver free gear to kids who could not afford it after working as a coach for Helena Youth Soccer's summer camps. There she noticed kids who were reluctant to participate since they did not have cleats and shin guards.
"We are excited to expand our work into the Bozeman area, helping remove barriers to entry for Gallatin Valley kids who want to play soccer," said founder and Executive Director, Isabelle Melton. "The mental health benefits of sports are well-documented and we are committed to getting as many kids out on the field as possible," she continued.
 "We love playing soccer and we want it to be easy for other kids to play, too," said 10-year-old Isabel Terrazas. "We are delighted to partner with Montana Soccer Soles. Montana Surf is committed to making soccer accessible for all and offering free cleats, shin guards and balls to players who need them is the perfect complement to our yearly scholarship fund," said Doug Robertson, Montana Surf's Program Director. 
About Montana Soccer Soles
Founded in 2015, Montana Soccer Soles accepts donations of new or used soccer gear, which is then shared with kids who need it. Soccer Soles currently has branches in Helena, Missoula and the Gallatin Valley. Donations may be dropped off to the Montana Surf office at 502 South 19th Street, Suite 103, in Bozeman or at The Surf/Blitzz indoor soccer facility at 20900 Frontage Road in Belgrade. 
About Montana Surf
Montana Surf provides quality soccer programs to players of all ages in Southwest Montana by developing teamwork, sportsmanship and life skills to enable each player to reach his/her potential. Montana Surf Competitive and Academy (formerly Blitzz FC) has been operating in the Gallatin Valley for more than 35 years and includes over 1000 recreational players and 500 competitive players. Surf has produced many Montana State champion teams, many successful high school and college players, and perhaps most importantly, won several regional sportsmanship awards.
Subscribe to our free newsletter.
Montana Surf teams were featured in the Bozeman Chronicle after winning 4 State Champion Titles Click here to read the article Four Bozeman-based teams won state titles this past weekend at the Montana Youth Soccer Association's Montana State Cup. Forty-four total teams participated in 13U-19U leagues, with winners qualifying for the US Youth Soccer Far […]

Four Bozeman-based teams won state titles this past weekend at the Montana Youth Soccer Association's Montana State Cup. Forty-four total teams participated in 13U-19U leagues, with winners qualifying for the US Youth Soccer Far West Regional Championships, which will be played June 23-29 in Boise, Idaho. From Bozeman's Montana Surf programs, the 2006 girls, 2005 […]

Montana Surf Brings the Fun and Excitement of Qatar and Australia to the Gallatin Valley with First Ever World Cup Camp! The Men's World Cup brought soccer into the limelight in 2022 and the sport is poised to gain even more popularity as we ramp up for the Women's World Cup this July. Soccer […]

Youth Sports: When is the right time to get in the game?  Youth sports have a big impact on both children and the communities in which they live. According to Aspen Institute's "Project Play," physically active children are 1/10 as likely to be obese, their test scores are up to 40% higher than […]