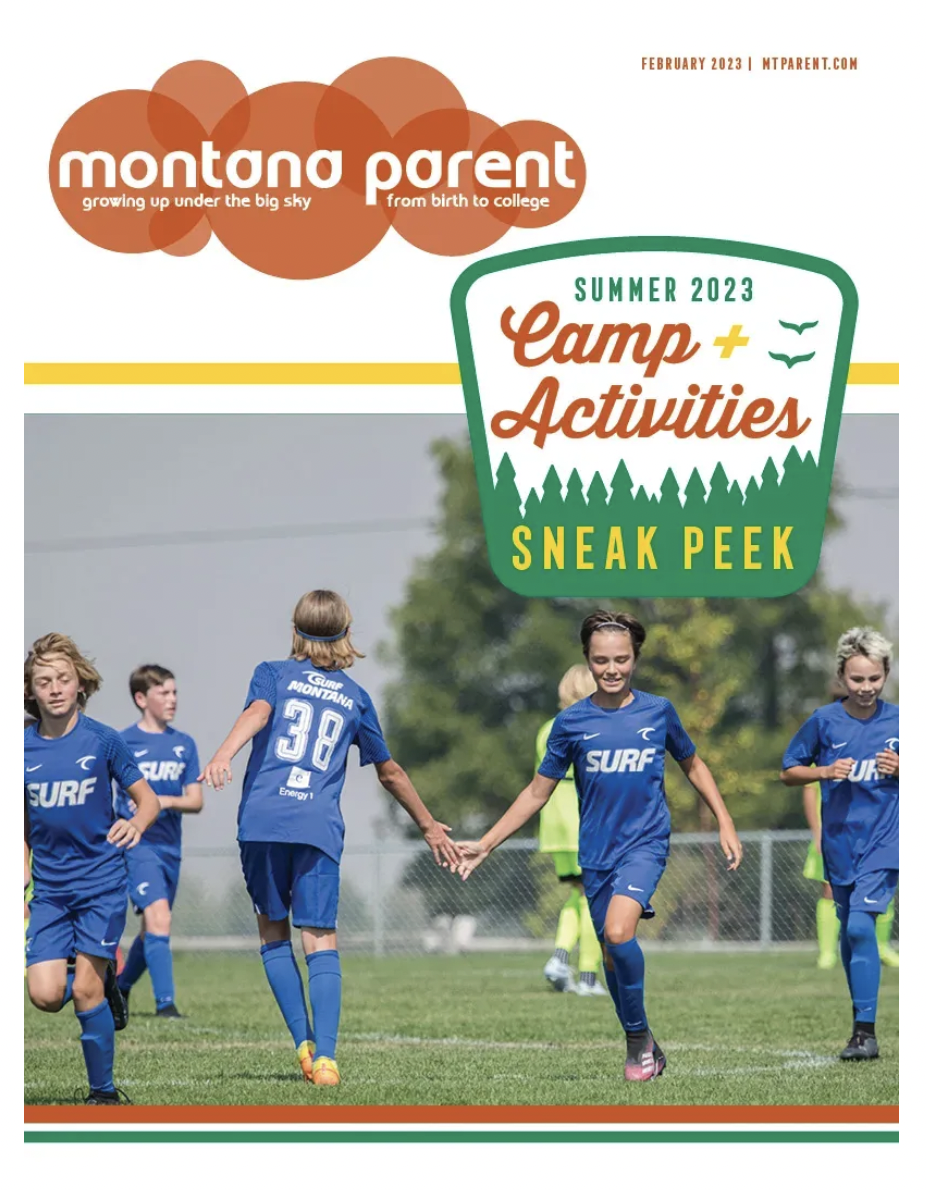 Montana Surf Brings the Fun and Excitement of Qatar and Australia
to the Gallatin Valley with First Ever World Cup Camp!
The Men's World Cup brought soccer into the limelight in 2022 and the sport is poised to gain even more popularity as we ramp up for the Women's World Cup this July. Soccer stars like Killian Mbappe, Megan Rapinoe and Naomi Girma are inspiring kids of all ages and backgrounds to pick up a ball and hit the pitch. Is your kid one of them?
What if they could compete in the "World Cup" right here in the Gallatin Valley? Montana Surf Soccer Club is bringing the excitement of the tournament to the Bozeman area with the inaugural Montana Surf World Cup Camp.
Players aged 4-14 will have the opportunity to train with Surf's "best of the best" coaching staff during a week-long camp session that will culminate with the Montana Surf World Cup tournament. Campers will begin the week with skill progressive sessions and small-sided games focused on individual player development. Mid-week, campers will be placed on a team representing one of the countries that competed in the World Cup. Coaches will turn the focus to team play and game strategy in preparation for Friday's tournament.
Sport and culture will mix as each team learns about the country they represent, including its most famous soccer stars and greatest soccer moments. During planned breaks for younger players to rest and recharge, coaches will lead art projects, creating items to be used during the Opening Ceremony.
On Friday, parents will be invited to join campers for the Opening Ceremony, Parade of Nations and the Montana Surf World Cup.
Montana Surf camps are designed to provide players with a soccer environment that is fun, educational and developmental. Each day campers will receive quality coaching that follows the Surf Nation coaching curriculum and that emphasizes Montana Surf core values: mastery, teamwork, sportsmanship and skill, unity and integrity, resilience and responsibility, and fun. Players will work on dribbling and running with the ball, passing and shooting, defending and tackling, and receiving and ball control.
All players will receive a ball, jersey, and a Montana Surf World Cup medal.
About Montana Surf: Montana Surf is a 501(c)3 nonprofit organization offering positive soccer programming designed to develop each player's individual physical well-being and full human potential. Montana Surf programs build character, growth mindset, resiliency, and key life skills, developing motivated citizens who make a positive impact on the Gallatin Valley community. Montana Surf believes in respect for the game, ourselves, teammates, opponents and referees.
Ages: 4-14
Session 1: June 19 to 23
Session 2: June 26 to 30
8-14, either half day or full day.
Ages 4-7, Half Day: 9am-11:30pm, $250
Ages 8-14, Full Day: 9am-3pm, $325, or half day option
Registration closes June 1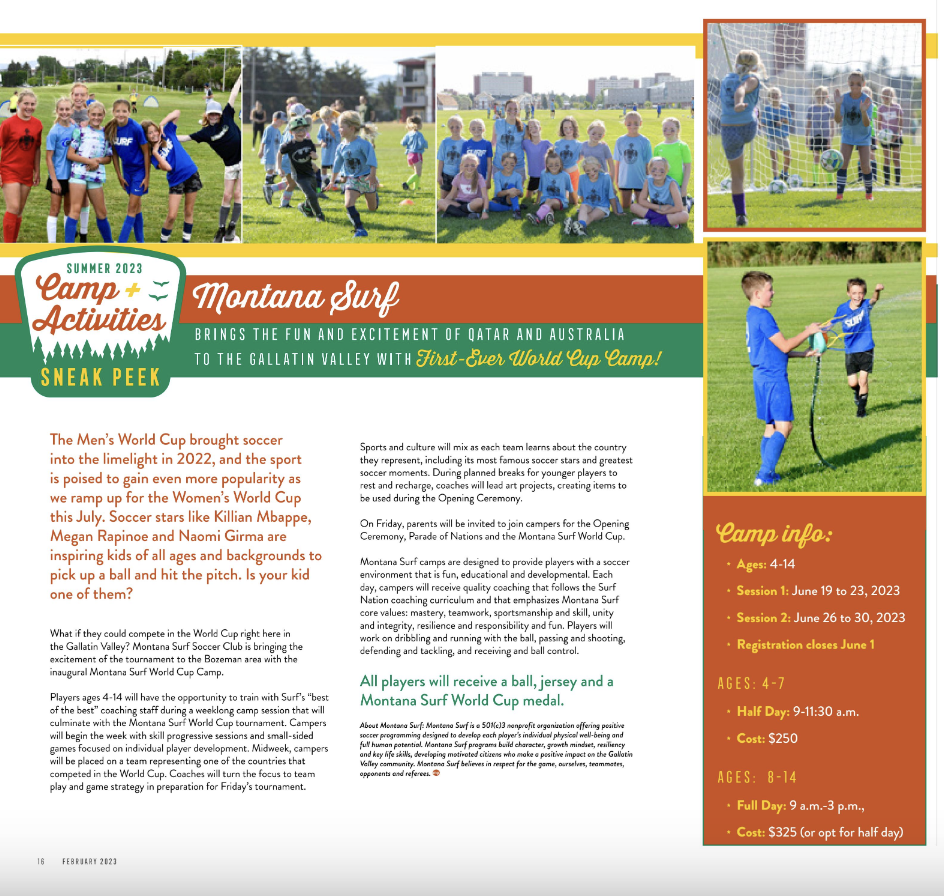 Subscribe to our free newsletter.
Montana Surf teams were featured in the Bozeman Chronicle after winning 4 State Champion Titles Click here to read the article Four Bozeman-based teams won state titles this past weekend at the Montana Youth Soccer Association's Montana State Cup. Forty-four total teams participated in 13U-19U leagues, with winners qualifying for the US Youth Soccer Far […]

Four Bozeman-based teams won state titles this past weekend at the Montana Youth Soccer Association's Montana State Cup. Forty-four total teams participated in 13U-19U leagues, with winners qualifying for the US Youth Soccer Far West Regional Championships, which will be played June 23-29 in Boise, Idaho. From Bozeman's Montana Surf programs, the 2006 girls, 2005 […]

Youth Sports: When is the right time to get in the game?  Youth sports have a big impact on both children and the communities in which they live. According to Aspen Institute's "Project Play," physically active children are 1/10 as likely to be obese, their test scores are up to 40% higher than […]

The Team Building: How a Group of Determined Parent Volunteers Transformed a  Warehouse Into a Soccer Oasis  By, Cate Wright & Jared Portnell I was up early on Saturday, January 1, 2022, and it was cold. Negative 21 cold. I turned my coat collar up, pulled my hat over my ears, and skidded across […]